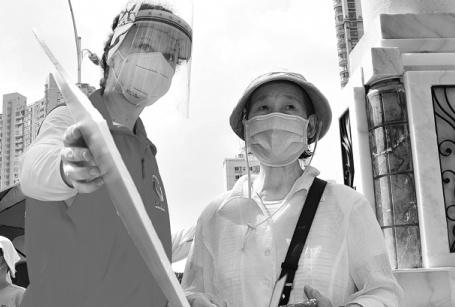 September was almost over, but it was still baking hot in Xiamen, a port city in East China's Fujian province. Wearing a red volunteer waistcoat and a face mask, Ana Vuksanovic, an English teacher from Serbia, was sweating in the sun.
Vuksanovic usually arrives at a private school where she works at 8 am and starts her English class at 9 am. But due to the recent surge in COVID-19 cases, her daily routine has been completely disrupted.
As new cases began to emerge in Xiamen, the city ground to a halt. Medical workers, government officials, police officers and volunteers were mobilized to fight the pandemic.
Many foreigners also joined the effort. Vuksanovic became a volunteer for the nucleic acid testing in Shenshan community, which had registered 147 confirmed COVID-19 cases by Sept 20.
Xiamen completed three rounds of citywide testing and is gradually reopening its public facilities.
Holding a piece of cardboard with a printed QR code on it, Vuksanovic moved along the queue bidding residents to scan the code, registering personal information and maintaining the 1-meter social distancing rule.
"I want to do something for my community, especially during this challenging time. It's very important to do my best to help the community to get back to normal," Vuksanovic says.
Last year, Vuksanovic received a lot of help from her community when China was badly hit by the virus.
"Community workers called me from time to time to remind me of how to take prevention measures and gave me masks, among other things. The community was so nice. I really felt safe," Vuksanovic says.
Vuksanovic says she did her volunteer service to return the community's kindness, and she was confident the latest outbreak would soon be beaten due to the joint effort of everyone in the city.
Zuzana Pavlonova from the Czech Republic is another nucleic acid testing volunteer, active in the city's Guanren community.
Speaking fluent Mandarin, she has been helping seniors to register at the testing site.
She usually arrives at the site at 7 am,and staying until 8 pm.
Pavlonova says there is a WeChat group for foreigners to sign up for volunteer work in Xiamen. Over 30 foreigners from countries such as Singapore, Germany and Italy exchange information about the wants and needs of the city.
"I think most of the foreigners who have been living in China for some time actually have this feeling of being very comfortable in China. Chinese people are very friendly, so they want to give something back to the community," Pavlonova says.
She hails Xiamen's quick response to the pandemic, saying she appreciated China's stringent restrictions on virus control and prevention.
"Different countries might have different ideas. It's about priorities. China is indeed strict, and this is also a reason why China has been the best country so far in terms of controlling the pandemic."
She also gave a thumbs-up for China's efforts to help other countries in their fight against the pandemic.
"We should all be grateful to China for donating masks, sharing information and its experience with other countries and regions to fight the virus in different ways. We are one world, and China shoulders its responsibilities," Pavlonova says.